Once upon a time, there were these delightful breakfast carbs called muffins. You only had 3 problems with them:
They didn't have enough muffin-top, which everyone knows is the best part
They were loaded with oil and sugar, so basically – bald cupcakes, not breakfast food
Muffins pans are a pain to wash!
Then along came "Mookies", born from a desire to eat more guilt-free muffin top and spend less time cleaning up after them. And they stayed in your kitchen forever and ever because they were so perfect.
Mookies
Seriously though, "Mookies" cross the line between breakfast cookies and puffy warm muffins. They're easy to make, kid-friendly, and inexpensive. Like most of my baked goods recipes, you can use white flour and regular sugar or whole grains and honey. Liquid sweetener leaves them a touch less sweet, but a pinch of stevia solves that problem.
Recipe notes also include egg-free and dairy-free versions, so they're allergy-friendly.
Chocolate Chip Mookies (Muffins + Cookies)
How to Make Muffins the Easy Way - Make "Mookies!" These muffins are easy to make, low-sugar, inexpensive, made with whole grains, and NO CLEANING THE MUFFIN TIN. Dairy-free, egg-free, and vegan versions included.
Adapted from this recipe from Simple Bites.
Ingredients
1 cup old-fashioned rolled oats
1 cup yogurt*
1 egg*
1/8 cup honey*
1/2 cup butter, melted, (coconut oil works great too)
1 cup plus 2 tablespoons flour, (white, whole wheat, or spelt work great)
1 teaspoon baking powder
1/2 teaspoon baking soda
1/4 teaspoon salt
1/2 teaspoon cinnamon
1/4 teaspoon nutmeg, (optional)
3/4 cup chocolate chips
Instructions
Optional step: The night before baking, stir together oats and yogurt in a medium-sized bowl. Cover and allow it to sit on the counter overnight (sometimes I refrigerate it, sometimes not).
The next morning, preheat oven to 375 F and grease a baking sheet.
In a medium-size bowl, stir together oats, yogurt, egg, honey, and butter.
Add dry ingredients to the bowl and stir gently with a rubber spatula until just combined.
Gently fold in the chocolate chips.
Use a tablespoon to plop heaping spoonfuls of batter onto the greased baking sheet, 2 inches apart.
Bake 10-­12 minutes until lightly browned, and the tops spring back when you touch them gently.
Remove from oven. Allow them to cool for 1-2 minutes before using a spatula to move them to a cooling rack.
Serve on a plate or in a napkin-lined basket.
Enjoy – warm and fresh is best!
Notes
*Substitutions:
In place of yogurt, you can use buttermilk or milk combined with 1 teaspoon vinegar or lemon juice
DAIRY-FREE: Use dairy-free milk
EGG-FREE: Use a flax-egg
VEGAN: Use both options above and maple syrup or sugar for the sweetener
SWEETENER: In place of honey, you can use maple syrup, a combination of molasses and honey, or 1/4 cup sugar. Each sweetener lends its own mild taste and texture. I've even used stevia. If you like really sweet muffins, you can add a pinch of stevia to the liquid sweetener.
Recommended Products
Some of these links are affiliate links. Read my disclosure policy here.
Nutrition Information
Yield

12
Serving Size

1 muffin
Amount Per Serving
Calories

179
Total Fat

12g
Saturated Fat

7g
Trans Fat

0g
Unsaturated Fat

4g
Cholesterol

37mg
Sodium

219mg
Carbohydrates

17g
Fiber

1g
Sugar

10g
Protein

3g
Please note: The actual calories and nutrition of this dish will change depending on what ingredients you use. Nutrition information is not always accurate.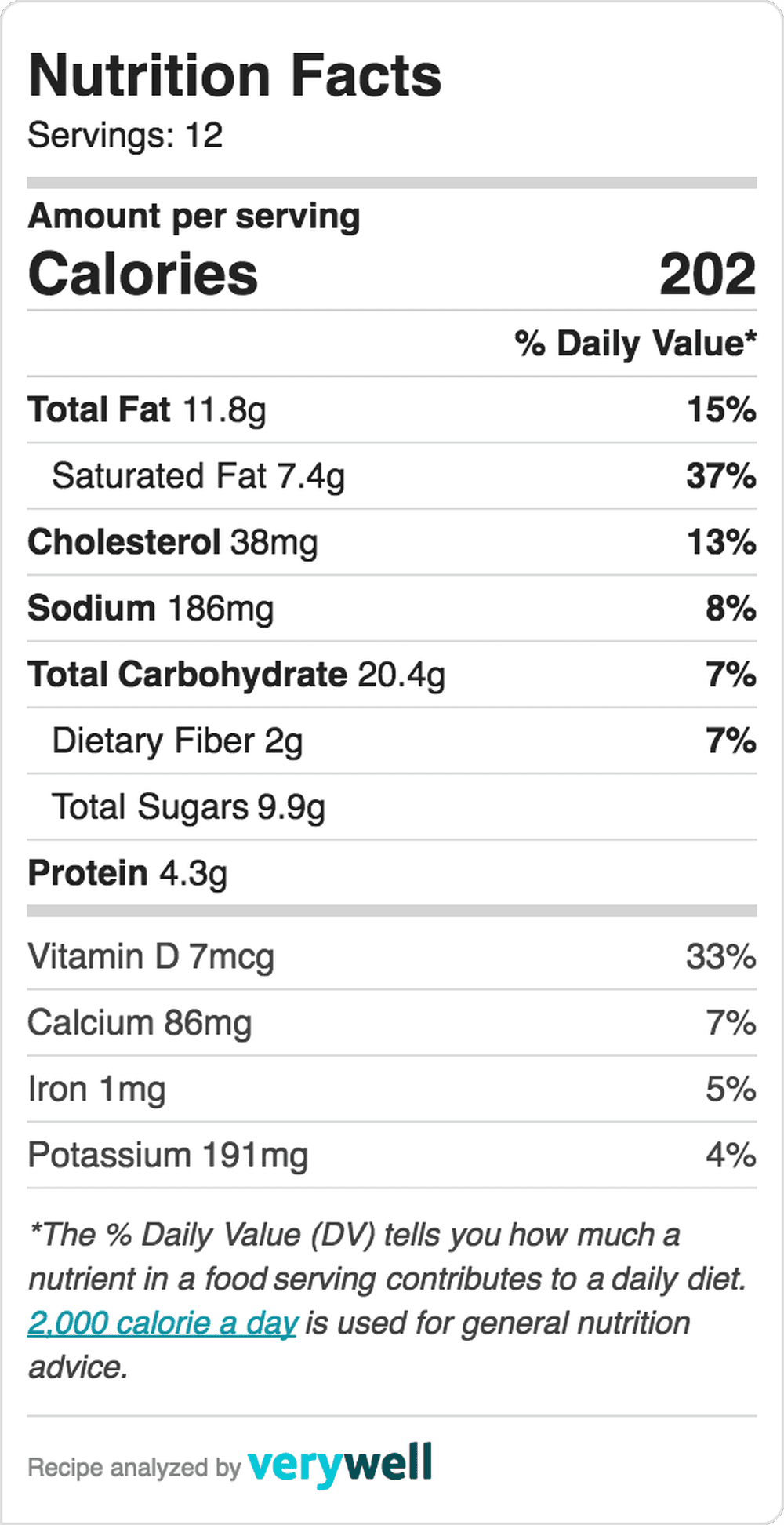 Please note: The actual calories and nutrition of this dish depend on what ingredients you use.