This post contains affiliate links, which means I receive a small compensation if you make a purchase using the links. You can view my full disclosure policy here.
The thing about saving money and eating healthy is all the cooking. I like cooking. But I have a handful of mouths to feed, and they are hungry like every day, without fail.
It's exhausting.
While I try hard to feed us real food without breaking the bank, sometimes frozen chicken nuggets and boxed macaroni and cheese sound luxurious. Or take out. Or Chick-fil-A.
Do you feel that way? Maybe you don't have all the chirping chicks in your nest. Maybe you're just feeding 1 or 2 people. However, I bet those people are still hungry every day. Chick-fil-A sounds just as good yourself as it does in a minivan full of car seats.
Here's What I've Learned
In order to eat well and not get overwhelmed, we have to streamline and delegate. There are several ways to do this. You can designate a meal prep day, or kitchen day. I first started applying this concept when I read Well Fed (affiliate link) (one of my favorite cookbooks). Then I heard it from Home Management How-To (affiliate link), which brilliantly applies it to other areas of your life.
Streamlining with a Meal Prep or Kitchen Day means you dedicate 1-2 hours to preparing some food ahead of time. Chop your vegetables, thaw your meat, bake some bread, granola, and other snacks for the week ahead.
Delegating means assigning some jobs to other people in your home. If they eat, it's only reasonable that they help cook. Those baby chicks can do a lot of prep work. Since my kids started the Kids Cook Real Food program (affiliate link) they've been even more enthusiastic and capable in the kitchen.
Energy Bars Help You Streamline & Delegate.
They're a simple snack that keeps well if you make it ahead of time. And they're easy enough for kids to make.
I based them off the wildly popular snack, No Bake Energy Bites. Seems like every food blog has their own version – cranberry almond, chocolate mint, oatmeal raisin.
This is my easy version. It's one of the cheapest Energy Bites you'll find while still using all real food. To make it easier, I make bars instead of "bites." Because when you're cooking real food, you need all the time-savers you can find.
Conveniently, these No Bake Energy Bars are also:
Vegan (if you use maple syrup)
BONUS: 10 Healthy Snacks Kids can make themselves! (affiliate link)
How to Keep Them Cheap:
Use peanut butter instead of the more expensive nut butters. If you make your own nut butter (seriously, just toss nuts and a little oil into the food processor), sunflower seeds are some of the least expensive options for nut butter.
Skip the chips. Many recipes call for some kind of chocolate chip or cacao nibs. I use cocoa powder instead.
Stick to the basics. You can add all sorts of fun things to this recipe – hemp seeds, unsweetened coconut flakes, chia seeds, etc. – but they add to the cost, and likely don't add a ton of nutrition. Use what you like and what your budget can afford!
Frugal No Bake Energy Bars
Total Time:
1 hour
10 minutes
The cheapest version of Energy Bites. It uses all real food, but with an eye toward making it as inexpensive as possible. Instead of making "bites," I make bars. Because when you're cooking real food, you need all the time-savers you can find.
Adapted from Smashed Peas and Carrots.
Ingredients
1 cup rolled oats or quick oats
1 cup unsweetened coconut flakes, (or more oats)
1/2 cup ground flax seeds, (or more oats or sunflower seeds)
1/4 cup cocoa powder
1/2 cup peanut butter
1/3 cup honey or maple syrup
1 teaspoon vanilla
Instructions
Place all ingredients in a medium-size bowl. Stir them together thoroughly.
Easy Bar Version:
Press dough evenly into an 8x8-inch pan. (Optional: line pan with foil or parchment paper)
Cover the pan and place it in the fridge to chill for about an hour. Store bars in the refrigerator for up to 1 week.
Classic "Bites" Version:
Cover the bowl and place it in the fridge to chill for about an hour.
With clean hands, roll the dough into little balls about 1-­inch in diameter. Store bites in the refrigerator in a sealed container for up to 1 week.
Notes
NUT-FREE: Replace peanut butter with sunflower seed butter. If coconut is an issue, use oats instead.
Recommended Products
Some of these links are affiliate links. Read my disclosure policy here.
Nutrition Information
Yield

16
Serving Size

1 grams
Amount Per Serving
Calories

157
Total Fat

9g
Saturated Fat

4g
Trans Fat

0g
Unsaturated Fat

4g
Cholesterol

0mg
Sodium

48mg
Carbohydrates

16g
Fiber

3g
Sugar

8g
Protein

4g
Please note: The actual calories and nutrition of this dish will change depending on what ingredients you use. Nutrition information is not always accurate.
Make These Bars Easier:
Of course any bowl and pan work. But as soon as I could, I got these bowls and pans because they come with lids. Lids make it easier to store, travel, and refrigerate without buying plastic wrap. Helps save money and the environment!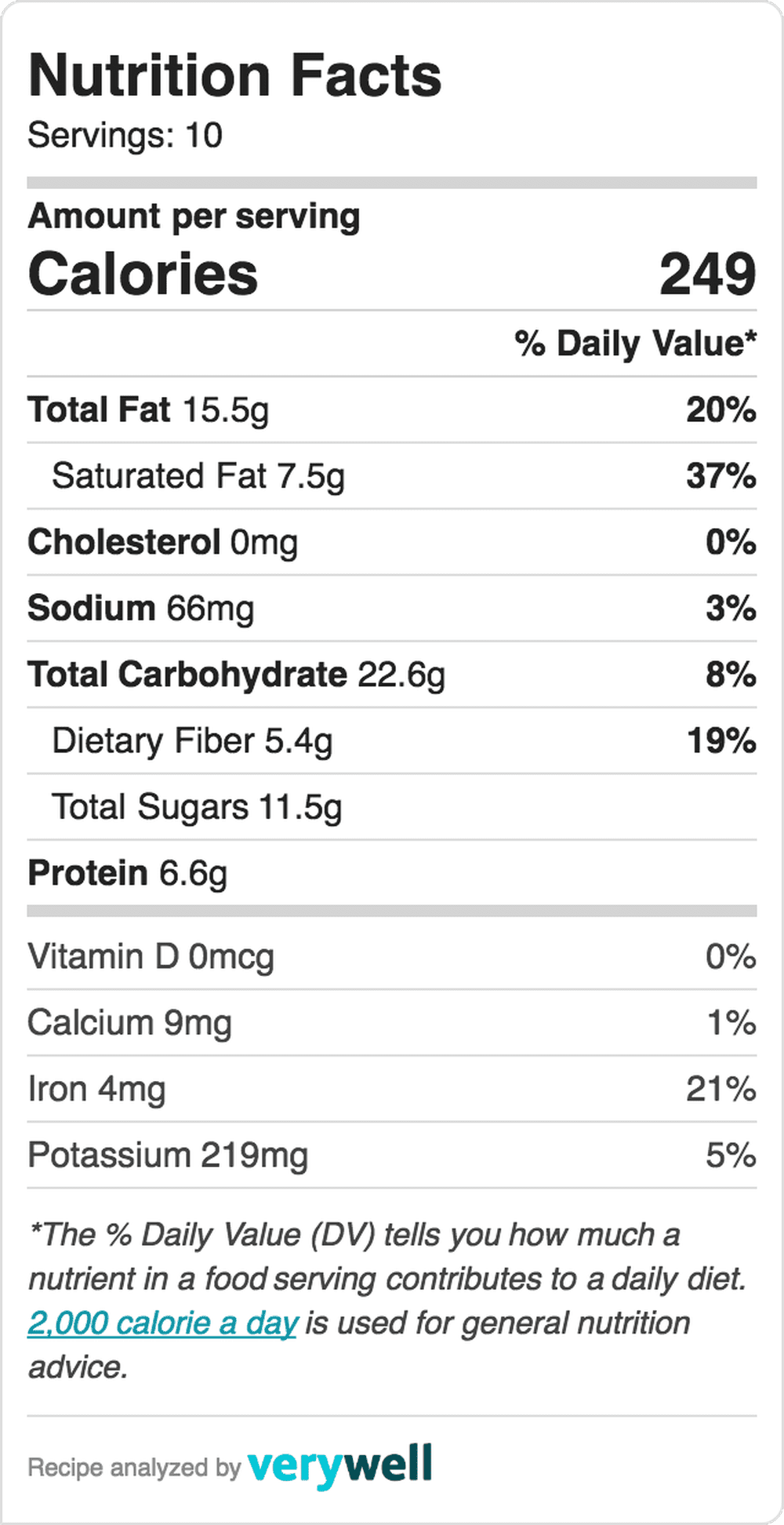 Please note: Serving size is 2 small bars. Made with oats, coconut flakes, and flax seed. The actual calories and nutrition of this dish depend on what ingredients you use.